Unwind Organic Himalayan Bath Salts - Lavender, Bergamot 🛁
Experience deep relaxation from the pure essential oils whilst removing toxins and impurities from the body. Relax the senses while detoxifying the body with this Organic Unwind Himalayan Bath Salts made with lavender and bergamot. Also great for helping the treatment of eczema and psoriasis.
🌿 100% natural ingredients.
Size: 100 ml or 250 ml
Treat yourself or a loved one to a soothing bathing experience.
How to use
Sprinkle a handful of salts into warm bathwater. Stir water allowing salts to dissolve. Relax and enjoy.
Once opened please use these bath salts within six months and always replace the lid on when not in use. May leave bathtub or shower slippery, please take precautions when using. Please store in a cool, dry place away from direct sunlight.
Please keep out of the reach of children.
Ingredients
+ Himalayan Pink Salt is an extremely pure natural salt that was formed millions of years ago before any modern day pollution. Himalayan salt contains 84 minerals including magnesium, calcium and potassium. A good soak will leave you feeling clean and invigorated with super-soft skin.
sodium chloride (himalayan pink salt), caprylic/capric triglyceride (coconut), lavandula angustifolia (lavender) flower oil, citrus aurantium bergamia (bergamot) fruit oil.
Natural component of essential oils: citral, geraniol, limonene, linalool, citronellol.
Add Gift Note
💌 Personalised gift cards are complimentary and available as an option with all orders. Please leave a note in your cart before checking out under 'Add a personalised note or delivery instructions'.
Customer Reviews
01/02/2022
Loulou 8.

United Kingdom
unwind, Kind ,bath salts
Perfect gift to match the (Rose & Geranium facial oil ) other gifts in the create your own gift box I bought for my sister post operation , and eczema sufferer so gentle , mild , calming and organic so nothing but great quality product -helped her sleep. She would buy again she said -and I am no tempted to try too!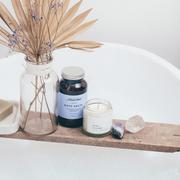 04/02/2022
The Sun & My Soul
Thank you for your kind words! So lovely to hear it helped your sister! We work hard to meet expectations like yours, and we're happy to hear we hit the mark for you.
18/02/2021
Camilla

United Kingdom
My favourite bath salts
If you haven't used Nathalie Bond bath salts, you need these in your life! They smell divine and turn an everyday bath into an at home spa experience.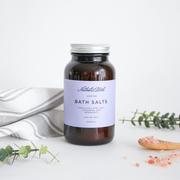 25/03/2021
The Sun & My Soul
Thanks Camilla. That's so good to hear! We are glad you love our bath salts.
05/01/2021
Rita S.

United Kingdom
Lovely smell
Great all natural bath salt - has a lovely strong smell and since you only have to add a little bit, the bottle will last a very long time.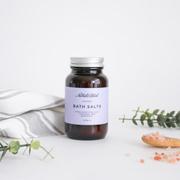 25/03/2021
The Sun & My Soul
Thanks for your feedback Rita! We're so happy you loved our bath salts.