Discover your hidden talents, face your fears, and get to know who you really are. The Self-discovery Card Deck can help you on a journey towards your inner self. It aims to help you discover what you are passionate about, what you are good at, and what is holding you back in life. 💫
Perhaps you feel a bit stuck right now and know that you need to make some changes. This deck can give you valuable insights by asking the right questions.
Here are few tips on how you can use the affirmation cards:
prompts for journaling

for quiet contemplation in solitude

to spark interesting conversations with friends
Perfect as a gift for yourself or for a loved one
Features
The Self-discovery Card Deck includes 80 prompt cards for reflection and exploration. It is divided into 4 categories:

Part 1: Passion and Strength
Part 2: Fears and Insecurities
Part 3: Possibilities
Part 4: Relationships
Add Gift Note
💌 Personalised gift cards are complimentary and available as an option with all orders. Please leave a note in your cart before checking out under 'Add a personalised note or delivery instructions'.
Customer Reviews
28/07/2022
Hana

United Kingdom
Great!
It's good quality.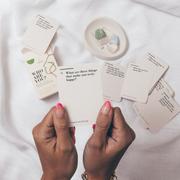 28/07/2022
The Sun & My Soul
02/02/2022
Anonymous

United Kingdom
I love them!
Me and my husband use these at night together. They're a great talking point with lots of questions that we wouldn't think of asking each other. Such a great buy! Also they're really good to use by yourself. I would definitely recommend.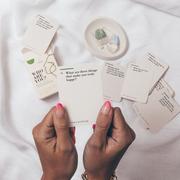 04/02/2022
The Sun & My Soul
Thank you so much for sharing your experience with us! We are so happy to hear that the cards work really well for you. :)
11/11/2021
Catherine H.

United Kingdom
Informing my Self Care Practice
I wanted something to help spice up my writing. I was answering the same questions in my gratitude book and was thinking, there surely are wider things to be pondering. Boom - that's when i discovered the Who Are You cards. Each day now i have a shuffle and draw a card to ponder - some days i'm thinking about it all day, some days i don't even write. thanks for putting them together, it's a new discovery and one i am liking very much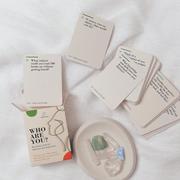 12/11/2021
The Sun & My Soul
Thank you for your positive feedback Catherine! :) We are so happy you find our cards to help spice up your writing.