Healing Affirmation Crystal Candle in Gift Box ✨
Set your intentions with this Healing Affirmation Crystal Candle. Throughout our lifetimes, we experience physical, emotional and mental challenges. The crystals paired with the candle prevent negative energies helping to interact with your chakras and to connect with your higher self and find clarity in your life. It clears away emotional wounds and scars from the past, and nurtures love.
This candle is made with a warm sophisticated aromatic fragrance with delicate sage and sea salt embedded with crystals that helps with emotional balance, prevent negative energies and finding clarity in your life.

This can be a thoughtful gift to your loved ones to show them how to be strong during their struggle and healing process.
 Available sizes:
•Size: 200 ml  Approx. burn time: 36 hours 
It comes with 2 crystals (tourmaline, rhodonite)
•Size: 300 ml  Approx. burn time: 45 hours
It comes with 3 crystals (tourmaline, rhodonite, clear quartz)
💜 Healing Crystal Guide:
Tourmaline: Helps to create a shield around a person or room to prevent negative or unwelcome energies from entering. It is also grounding and helpful to balancing all of the chakras. The stone can even dissolve challenging energy and negative thought patterns, transmuting them into more beneficial energy and beliefs.
Clear Quartz: Amplifies energy by absorbing, storing, releasing, and regulating it. It's also said to aid concentration and memory. Physically, clear crystals are claimed to help stimulate the immune system and balance out your entire body.
Rhodonite: A stone of compassion, an emotional balancer that clears away emotional wounds and scars from the past, and that nurtures love. It stimulates, clears and activates the heart.
*Crystals can vary depending on availability.
We recommend removing the crystals after the first burn. To remove, use a spoon to lift the crystals out carefully. Be careful if the wax is still hot not to burn yourself. Run the crystals under hot water until the rest of the wax is washed away.
🕯Bundle Offer
Buy 3 candles from us and get 1 50% OFF.
This is an automatic discount and will be applied automatically at checkout. You need to add minimum 4 candles to your cart to receive the discount. The discount always applied on the cheapest product.
Features
• Individually hand poured in London by The Sun & My Soul founder Jutta
• Comes with 2 or 3 cleansed and charged crystals depending on the size you choose
• Labels are made from recycled paper
• Presented in a white box, perfect for gifting
• Ethically and sustainably created
• Naturally vegan & cruelty free
• No dyes, additives or parabens 
Add Gift Note
💌 Personalised gift cards are complimentary and available as an option with all orders. Please leave a note in your cart before checking out under 'Add a personalised note or delivery instructions'.
Customer Reviews
04/04/2022
Anonymous

United Kingdom
Lovely gift
Bought as a gift for my sister when she was going through a hard time and she was really touched. One bit of feedback I would give is the package doesn't include a description of the crystals and their properties or the information about removing them after the first burn. I had to send this to her separately.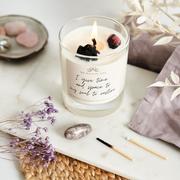 06/04/2022
The Sun & My Soul
Thank you for your feedback! We are so happy your sister liked our candle. :) Sorry to hear your candle arrived without our candle care and crystal guide. We always include it with all crystal candles. Apologies for the inconvenience!
Beautiful gift
Beautiful gift for my friend, love that she can keep the crystals too!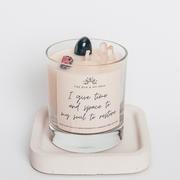 23/12/2021
The Sun & My Soul
We are so happy to hear that you like this candle! :) It means a lot! Thank you!
07/12/2021
Chardise D.

United Kingdom
Thoughtful gift
Makes a lovely gift for anyone that likes crystals! And good energy!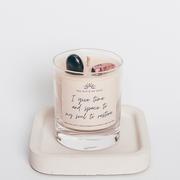 07/12/2021
The Sun & My Soul
Thank you for your lovely feedback! :)