Quiet Moments - Lavender Self-Care Box has all the essentials you need for a quiet moment to help you relax.💜
With an ultimate pamper night in mind, we put Ravens Apothecary English Lavender Bath Salts in the spotlight. These indulgent bath salts are made with nature's finest ingredients for a bath that revitalises the skin and relaxes the mind and body.💆🏽‍♀️
Our Lavender Soy Candle will bring the spa right to your home!  When you need some quiet moments, it is perfect to burn while in a candlelit bath or in your bedroom after a long day. Floral notes of calming lavender and natural foliage, this scent is perfect all year round!
Cleanse the face and body with the Unwind White Kaolin Clay Soap Bar. Nourishing for the whole body packed with gentle organic ingredients without drying the skin. This luxurious soap is calming with its lavender and bergamot scent and has a silky smooth texture.
And to add a little extra to your day, eat some Love Cocoa English Mint Dark Chocolate Bar.
This is your time for self-care and relaxation and there no need to do anything but enjoy a quiet moment.
For those looking for a thoughtful gift for a loved one, this self-care box would be perfect.
🌿Quiet Moment - Lavender Self-Care Box includes the following products:
•Ravens Apothecary English Lavender Bath Salts 250ml
•Nathalie Bond Unwind White Kaolin Clay Soap Bar - Lavender, Bergamot 100g
•Quiet Moment - Lavender Soy Candle in gift box, 200 ml, +36hr burn time
•English Mint Dark Chocolate Bar (vegan) 75g
♡ All of our self-care boxes arrive in beautiful gift packaging. Including our signature white box with a quote inside, luxury tissue paper and a complimentary gift card of your choice.
Personalised gift cards are complimentary and available as an option with all orders. Please leave a note at checkout under 'Add note to your order'.
Customer Reviews
15/02/2021
Kiara

United Kingdom
This self-care box helped me a lot.
I can not recommend you enough this anxiety relief box. It help me through on tough times. Such nice and great products.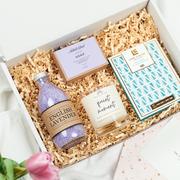 25/03/2021
The Sun & My Soul
Thanks for sharing your great experience with us, Kiara! We're happy to hear our self-care box helped you through on tough times.