Where attention goes, energy flows. These beautiful Energy Cards - Positive Affirmation Cards can help you shift your perspective and inspire positive change.✨
Using positive affirmations every day can infuse your life with more energy, increase your self-esteem and open new opportunities. It can also combat the inner critic that engages in unhelpful negative self-talk.
Draw one card each morning to set the right tone for the day, pick an affirmation as a mantra for your meditation or use the cards as a pick-me up when you are feeling a little bit down.💫
Perfect as a gift for yourself or for a loved one.
Features:
63 affirmation cards to transform your day

Printed on premium, eco-friendly 350 gsm paper
Here are few tips on how you can use the affirmation cards:
Use it as a positive reminder for everyday to make your day better and to let go of your negative thoughts.
Use them to put on your desk, mood board, decor for your space.
Stick in a place where you can see every day such as mirror or doors, as a positive reminder everyday.
Would make a great gift for your loved ones.
Use it for your journal and planners.
Use it as a meditation and empowering cards.
Personalised gift cards are complimentary and available as an option with all orders. Please leave a note in your cart before checking out under 'Add a personalised note or delivery instructions'. 
Customer Reviews
26/02/2022
AJ

United Kingdom
Empowering and reassuring
These are really cute affirmation cards with a lot of variety relating to different areas of life. Need to remember to use them more often! Such a lovely small business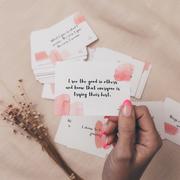 02/03/2022
The Sun & My Soul
Thank you for your kind words! We're so happy you love the cards!
08/11/2021
Eloise

United Kingdom
Love it
purchased these for our works well-being week! really put a smile on everyones faces :)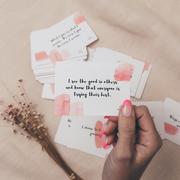 09/11/2021
The Sun & My Soul
Thank you for your feedback Eloise! We are so happy you loved it! :)
21/10/2021
Anonymous

United Kingdom
Lovely products, incredible service
Such a great experience shopping with The Sun & My Soul. An immediate response to my query, support to get my order to me quickly for an upcoming birthday gift, and really friendly support. The items looked beautiful when they arrived.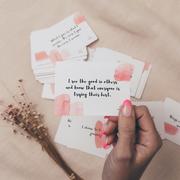 21/10/2021
The Sun & My Soul
Thank you for your kind words! We're so happy we could help and you loved your experience! :)