The Self-love Self-Care Box is the perfect way to connect with yourself and start your self-discovery. 💖
The beautiful Self-love Affirmation Crystal Candle is embedded with crystals that radiate positive and loving vibes to help you love yourself unconditionally. The Self-love Journal will help you to check-in with yourself, set challenges for healthy growth and practice self-care activities. The monthly illustrated affirmations will empower you further on your mindful journey of self-discovery. 
Self-love Affirmation Cards designed to use time and time again, to help you practice self-love and feel confident.
Light the crystal candle and sit down to journal while you enjoy the Love Cocoa Pink Gin Truffles. Yum!
Treat yourself, or gift it to someone.
🌸 Self-love Self-Care Box includes the following products.
•Note and Shine Self-Love Journal (Size A5, Paperback)
•Self-Love Affirmation Crystal Candle 200 ml with 2 crystals, peony blush suede scent
•Self-Love Affirmation Cards (30 cards in gift box)
♡ All of our self-care boxes arrive in beautiful gift packaging. Including our signature white box with a quote inside, luxury tissue paper and a complimentary gift card of your choice.
Add Gift Note
💌 Personalised gift cards are complimentary and available as an option with all orders. Please leave a note in your cart before checking out under 'Add a personalised note or delivery instructions'.
Customer Reviews
20/09/2021
Charlotte P.

United Kingdom
Perfect self-care gift for a friend in need
Faultless! I stumbled across the brand online and am so glad I did, amazing products and a gorgeous brand - super smooth and quick delivery. Love love love.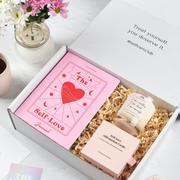 20/09/2021
The Sun & My Soul
Thank you for your kind words, Charlotte! We're so happy you loved your experience! :)
09/08/2021
Lily T.

United Kingdom
Just what I need!!
I always talk to myself in a negative way and have always had poor self-esteem and recently have got myself into an extremely bad rut and cycle and I really wanted to change that and change myself and my mindset for the better, and to change my outlook on my body, and this kit is the perfect start to it! The box came quickly and packaged very nicely! The candle smells amazing and the notebook is perfect start to help improve your mindset with guided pages to talk to yourself in a positive mindset. The cards are a fantastic prompt as well! Thank you very much, very pleased with my order! :)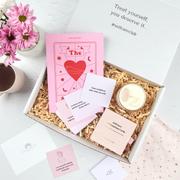 10/08/2021
The Sun & My Soul
Thank you so much for the kind words Lily. Reading how this box helps you on your self-love journey means a lot! :)
22/02/2021
Fran C.

United Kingdom
Beautiful self-care products
I absolutely love my new notebook- I was having to self-isolate when I was recommended your products by a friend and I felt in such a bleak place- and I have been trying to find a writing prompt to improve the way I see myself for ages. The book is perfect! The candle smells amazing and the bath salts transform my bath perfectly. I will definitely be shopping with you again :)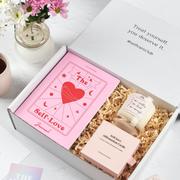 25/03/2021
The Sun & My Soul
Thank you for your kind words, Fran! We're so happy you loved our self-care products. :)