The Calm Self-Care Box designed to help you through on days when you feel overwhelmed and stressed.
Run a bath and use the Calm Himalayan Bath Salts and indulge in a relaxing experience to dissolve the worries of the day away. Cleanse the face and body with the Unwind White Kaolin Clay Soap Bar. This luxurious soap is calming with its lavender and bergamot scent and has a silky smooth texture.
The Calming Mist designed to help eliminate stress and anxiety. It contains 3 expertly blended products. The calming blend contains rose, bergamot & ylang-ylang essential oils.
TeaPigs Organic Relaxing Tea - Calm with Valerian is a combination of citrus and flowers with powerful valerian to deliver a tasty calming tea. It is great if you are feeling a bit of panic. This tea contains valerian which helps maintain a natural sleep and good cognitive function. 
For those looking for a thoughtful gift for a loved one, this self-care box would be perfect.
Calm Self-Care Box includes the following products:
•Corinne Taylor Calm Himalayan Bath Salts Sachet 75g
•Nathalie Bond Unwind White Kaolin Clay Soap Bar 100g
•Bramble & Blossom Calm Mist 50ml
•TeaPigs Organic Relaxing Tea - Calm with Valerian (15 servings)
Personalised gift cards are complimentary and available as an option with all orders. Please leave a note at checkout under 'Add note to your order'.
Customer Reviews
03/09/2021
Lily

United Kingdom
Lovely box
This box helped me to relax. Thank you. The scents are amazing and so calming. I will definitely purchase this again.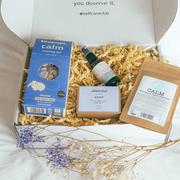 03/09/2021
The Sun & My Soul
We are so happy to hear that you loved this calming box! Thank you! :)