Gratitude Self-Care Box gives you the opportunity to focus on the good parts of your day. A great way to cultivate positivity and practice gratitude. 🙏
Gratitude Journal is a great way to cultivate positivity and becomes a record of moments when you've practiced being thankful.
Set your intentions with this Positive Affirmation Crystal Candle. The crystals paired with the candle increases the positive vibrations helping to interact with your chakras and to connect with your goals. It resonates with joy, positivity and abundance.
The beautiful Mindfulness Affirmation Cards can help you focusing on the present moment, you can bring your mind back to a state of calmful clarity where you are more likely to find peaceful resolutions to situations.
For those looking for a thoughtful gift for a loved one, this self-care box would be perfect.
💛 Gratitude Self-Care Box includes the following products.
• LOVE IS MY PROTEST Gratitude Journal
•Faye Co Papier Mindfulness Affirmation Cards
•Positive Affirmation Crystal Candle 30 cl with 3 crystals, Vanilla scent
♡ All of our self-care boxes arrive in beautiful gift packaging. Including our signature white box with a quote inside, luxury tissue paper and a complimentary gift card of your choice.
Personalised gift cards are complimentary and available as an option with all orders. Please leave a note in your cart before checking out under 'Add a personalised note or delivery instructions'.
Customer Reviews
17/06/2021
Chloe

United Kingdom
Wonderful
Such a wonderful box. Everything was beautiful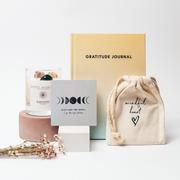 20/06/2021
The Sun & My Soul