White Clay Face Mask with no essential oils, the Kaolin clay works to draw out impurities while the dried flowers heal and soothe the skin.
Wild Sage + Co haven't added essential oils to this mask, instead they have added a blend of natural flowers so you can reap the benefits without irritating extra sensitive skin.

Formulated for those with extra sensitive skin.

Size: 25g
Clay masks and baths have been used for hundreds of years to smooth and clean the skin.
In this mask Wild Sage + Co added Kaolin clay to gently draw out impurities and toxins in the skin and to purify and decongest the pores.
Calendula is a potent healing herb that works to soothe all kinds of skin ailments. Used for thousands of years as a tonic so soften the skin, it is hypoallergenic, making it perfect for more sensitive skin types.
Chamomile is a well-known anti-inflammatory, helping to repair the skin and calm the senses. The lavender petals in this mask are dried and ground into a fine powder, so you can get the full benefit of using them on your skin.
How to use
Mix a small amount with water to form a paste and apply to the face (avoiding contact with the eyes and mouth). Wait until all the clay has dried before washing away. 
Extra Tip: You might want to experiment with using yoghurt or even apple cider vinegar instead of water to give your skin an extra boost.
Ingredients
Kaolin Clay, Bentonite Clay, Calendula officinialis (Marigold) Petals, Lavandula angustifolia (Lavender) Flower, Chamomilla recutita (Matricaria) Flower
Perfect as a gift for yourself or for a loved one.
Personalised gift cards are complimentary and available as an option with all orders. Please leave a note at checkout under 'Add note to your order'.
Customer Reviews
29/05/2021
Rosie

United Kingdom
Love this face mask!
My skin is so sensitive and this face mask leaves your skin soft and glowing. I highly recommend it!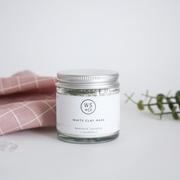 30/05/2021
The Sun & My Soul