Positive Crystal Kit🌞 
Set your intentions with our Positive Crystal Kit. These crystals increase the positive vibrations helping to interact with your chakras and to connect with your goals. This kit resonates with joy, positivity and abundance. An emotional balancer that clears away emotional wounds and scars from the past and nurtures love.
Positive Crystal Kit comes with a crystal guide and Organic Cotton drawstring linen pouch.
Perfect as a gift for yourself or for a loved one.
🧡 Positive Crystal Guide:

Citrine: The vitamin C of the soul because it resonates with joy and positivity. It gives you a feeling of a sunny day making you feel optimistic about life. Citrine is also used for its properties such as prosperity and abundance.
Sunstone: Heightens intuition and allows the real self to shine through happily. It dissipates fearfulness, alleviates stress and increases vitality. Encourages independence and originality.
Rhodonite: A stone of compassion, an emotional balancer that clears away emotional wounds and scars from the past, and that nurtures love. It stimulates, clears and activates the heart.
*Crystals can vary depending on availability.
Add Gift Note
💌 Personalised gift cards are complimentary and available as an option with all orders. Please leave a note in your cart before checking out under 'Add a personalised note or delivery instructions'.
Customer Reviews
15/05/2022
Anonymous

United Kingdom
Beautiful products
I was so happy with the packaging for my items, it was for a gift and was in the perfect box to gift my friend. The products were so pretty and cute, the Citrine crystal was the nicest one I've seen. Really happy with the products & will be buying again.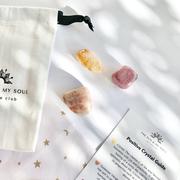 17/05/2022
The Sun & My Soul
Thank you for your review! We are happy you loved your order! :)