Positive Affirmation Crystal Candle
Set your intentions with this Positive Affirmation Crystal Candle. The crystals paired with the candle increases the positive vibrations helping to interact with your chakras and to connect with your goals. It resonates with joy, positivity and abundance. An emotional balancer that clears away emotional wounds and scars from the past and nurtures love.
Perfect as a gift for yourself or for a loved one.
This candle is made with Vanilla fragrance, embedded with crystals that aid in bringing joy and positive feelings into your life.
Features:
• Individually hand poured in London
• Comes with 2 or 3 cleansed and charged crystals depending on the size you choose
• Labels are made from recycled paper
• Presented in a white box, perfect for gifting
• Ethically and sustainably created
• Naturally vegan & cruelty free
• No dyes, additives or parabens
Available sizes:

•Size: 20cl  Approx. burn time: 38 hours 
It comes with 2 crystals (citrine, sunstone)
•Size: 30cl  Approx. burn time: 45 hours
It comes with 3 crystals (citrine, rhodonite, sunstone)
Positive Crystal Guide:

Citrine: The vitamin C of the soul because it resonates with joy and positivity. It gives you a feeling of a sunny day making you feel optimistic about life. Citrine is also used for its properties such as prosperity and abundance.
Sunstone: Heightens intuition and allows the real self to shine through happily. It dissipates fearfulness, alleviates stress and increases vitality. Encourages independence and originality.
Rhodonite: A stone of compassion, an emotional balancer that clears away emotional wounds and scars from the past, and that nurtures love. It stimulates, clears and activates the heart.
*Crystals can vary depending on availability.
We recommend removing the crystals after the first burn. To remove, use a spoon to lift the crystals out carefully. Be careful if the wax is still hot not to burn yourself. Run the crystals under hot water until the rest of the wax is washed away. 
Personalised gift cards are complimentary and available as an option with all orders. Please leave a note at checkout under 'Add note to your order'.
Customer Reviews
25/10/2021
Louise K.

United Kingdom
Great shopping experience!
Arrived quickly and well packaged. Strong vanilla fragrance, gorgeous crystals. Bought as a present for my daughter, who loves it! Would purchase again, and recommend this company to friends and family.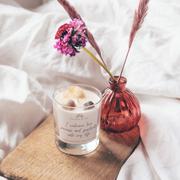 25/10/2021
The Sun & My Soul
Thank you for your kind words! We are so happy you liked your experience with us.