Dealing with physical, mental or emotional trauma? Use Healing Affirmation Cards to develop a positive mindset to support your healing process. Positive affirmations rewire unhelpful thought processes and develop new, beneficial ways of thinking so personal growth and healing can take place. Perfect for anyone who needs to focus on recovery. 💖
Perfect as a gift for yourself or for a loved one.
Features:
The Kit comes with 10 Printed Cards
Printed on premium 350 gsm paper card
It comes in Organic Cotton drawstring linen pouch
Size - 9x9 cm
Use ethical sourced and vegan friendly materials
Here are few tips on how you can use the affirmation cards:
Use it as a positive reminder for everyday to make your day better and to let go of your negative thoughts.
Use them to put on your desk, mood board, decor for your space.
Put them in a frame for your decor.
Stick in a place where you can see every day such as mirror or doors, as a positive reminder everyday.
Would make a great gift for your loved ones.
Use it for your journal and planners.
Use it as a meditation and empowering cards.
Personalised gift cards are complimentary and available as an option with all orders. Please leave a note in your cart before checking out under 'Add a personalised note or delivery instructions'.
Customer Reviews
04/03/2022
Anonymous

United Kingdom
Beautiful and thoughtful
Really love these, a quick reminder to use when needed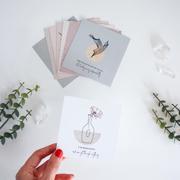 08/03/2022
The Sun & My Soul
Thank you for your feedback! We are so happy you liked the cards! :)
21/12/2021
Gemma

United Kingdom
Perfect gift
Perfect gift - great value for money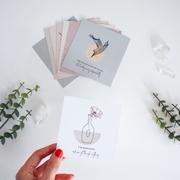 23/12/2021
The Sun & My Soul
Thank you for your feedback! :)
07/12/2021
Chardise D.

United Kingdom
Thoughtful gift
My friend is recovering from surgery, felt this was a really nice gift for days when she is feeling a little low! She's loved it!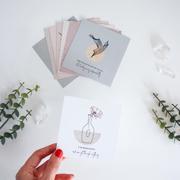 07/12/2021
The Sun & My Soul
Thank you! We are so happy she loved the cards! :)